Sullivans Island Al Fresco Entertaining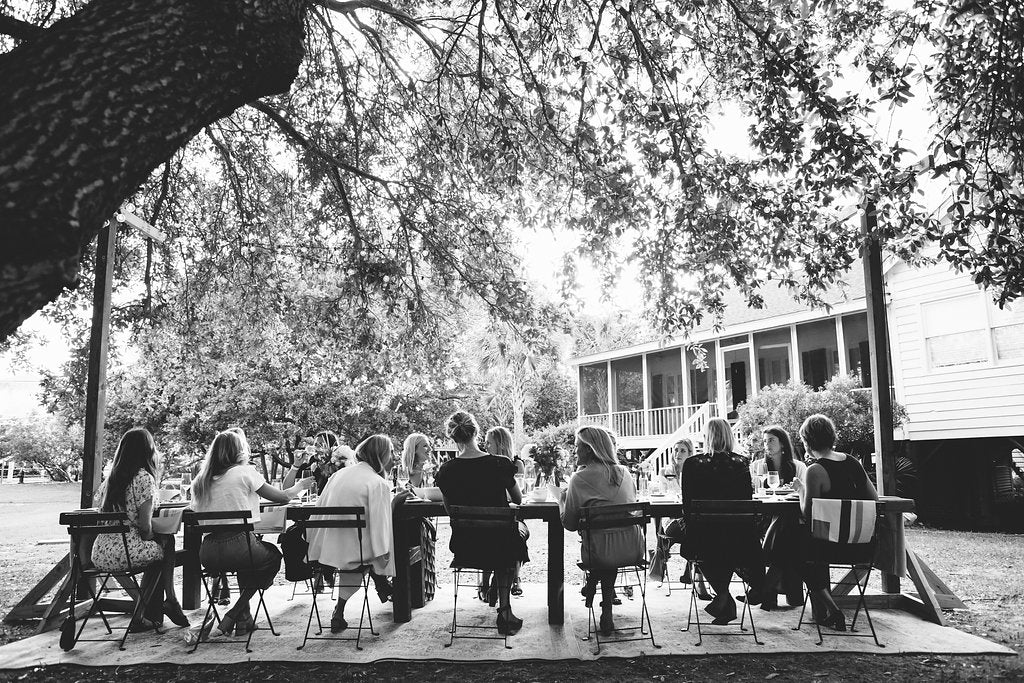 I am so incredibly thankful for all of the amazing women I have come in contact with in life and in business.  As I was talking with my friends, Lauren Lail and Way Way Allen about how many incredible ladies we have worked with over the years, we decided that it would be fun to host a dinner party to say thank you for the support over the years.
Lauren is a dear friend of mine and Way Way and I are cousins.  We have worked together on many projects and parties and in different spaces over the years.  Lauren and I had three pop-up-shops on King Street in Charleston, where Way Way's art was featured.  We've also shared studio spaces.
We, all three, love to entertain, so this dinner was a great excuse for us to work together and have some fun planning.  We were discussing ladies who have helped guide and support us over the years and decided host a dinner at my family's house on Sullivans Island to give thanks to some of the talented people who have helped us get where we are today.  Having the dinner outside under the trees was the perfect back drop for a low key, al fresco dinner.
We invited photographers, graphic designers, PR professionals, store owners and other creative partners that we have collaborated with over the years.
I always like to start with a signature cocktail.  We went with a custom cocktail of Hat Trick Gin by local High Wire Distillery, a local botanical gin with fresh grapefruit juice and soda, garnished with rosemary and grapefruit slice.  Dinner was paired with some of our favorite wines and Prosecco with dessert.
We wanted a cool, casual coastal set up for the al fresco dinner under the trees.  We worked with OOH Events and pulled farm tables, dishes in gray/blue hues, and antiqued flatware.
We dressed the table with a little treat from the three of us. Way Way and Lauren worked together on a sarong/beach wrap/throw/shawl.  The sarong was screen printed and served as a bit of color on the table.  Each was hand embroidered with the first initial of each guest's name to note their seat. I gifted each guest a pair of JPJ Mini Sapphire Baguette Studs, in color with the blues on the table.
Way Way is a master with flowers.  She pulled greenery and hydrangeas from her yard and mixed them with ranunculus, white roses, and eucalyptus.
The space lent itself to the party perfectly.  We wanted to be under the trees to create an indoor space outdoors.  Hanging lights in the trees coupled with moon light made for the perfect backdrop.
We love cooking but preparing dinner for 20 people was admittedly a bit daunting. We had heard great things about Salthouse Catering and wanted to try them out.  The recommendation proved spot on.  They were great to work with and their menu featured local sourcing when possible. It felt more like us to not only be involved in planning the family style menu, but to also prep and serve in our own dishes.  The dinner being in the yard of the beach house gave it a casual, cool feel that fit the family style serving.
 We started with local farmer's market boards with local seasonal vegetables and fruit.  We kept the dinner menu simple with some of our favorites, like Mustard Roasted Cauliflower, Local Bean Salad, Sorghum Glazed Chicken, and fresh Garlic Shrimp. Toasted Coconut was sprinkled on Chocolate Sorbet for dessert, and we toasted and thanked our guests again with Prosecco.  The food was delicious!
We were sure to include our spring/summer dinner party essentials:  Perfect cocktail, delicious food, and amazing company.  All boxes were checked.
It only took about a month to plan and execute.  We worked with OOH Events on all of the rentals.  They have an incredible warehouse in North Charleston with everything imaginable.  We chose tables, rugs, chairs, glasses, flatware, plates, and table cloths that suited the scene. Once we had a clear vision of the setup and the menu, we got the invites in the mail.  We made a call to land the famous, Calvin Taylor and we were good to go until the day of the dinner.
 There had been a 3 day downpour and we debated rescheduling, but hours before the dinner the cloud parted and it was the perfect evening.  Besides waiting on the mess of a storm the days leading up to the dinner, everything felt quite easy.
We went with live music for the dinner.  Calvin Taylor is a local musician, who is an absolute character and talent.  He began with some sitting Otis Redding  and ended with Journey.
Thank you for being in our lives, you group of kick arse ladies!
Special thank you's to