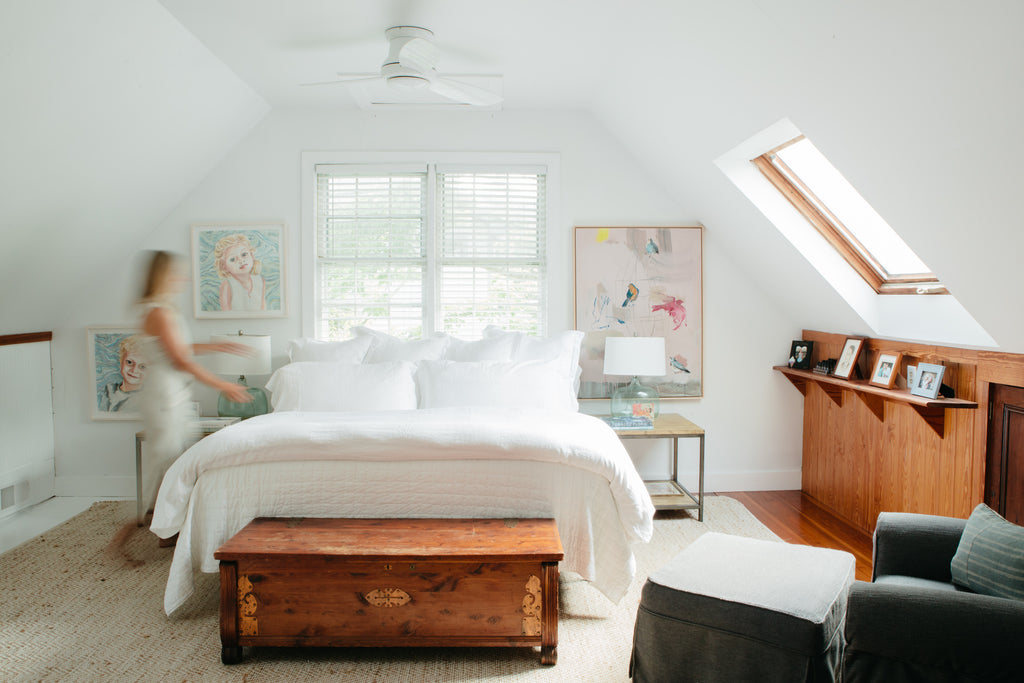 Our bedroom has never been a place that I have focused on in our home, but recently I have been craving a comfy bedroom set up. I heard that Celadon had these new linen and quilted bedding lines.  When I went to check them out, I fell in love with the linen duvet and shams.  They just make the bed so lush and comfy.  The linen is 100% stonewashed linen and is not only washable, but they get better and better with each wash.  I decided to mix the two lines, and do a Celadon signature quilt. I chose a hand stitched cotton for the spread. It's the perfect medium weight.  Since hubby and I prefer different sleeping temps, I can pull up the linen duvet to protect me from his arctic temps. I am so happy we mixed the collections and look forward to jumping in bed these days.
I recently bought this incredible painting by Raven Roxanne.  Although I really had no place to hang it in my home or my studio, I knew I had to have it.  I brought it home, knowing that I didn't have the perfect space for it on my walls.  I loved looking at it so I had it in my bedroom to enjoy while I found a spot for it.  One day, I propped it up on my bedside table and BOOM!  Despite the fact that it was a tight fit in the small space with the slanted ceiling, I loved it, so there it went.
 To create a bit of balance on the other side of the bed, I hung my two Britt VanDeussen watercolor portraits of Wade and Pope.  I could not be happier with the way these two pieces turned out.  Britt is insanely talented, and has an incredibly unique style.  One of my favorites of her work is this painting of her daughter with a black eye.  She does amazing things with pattern and color.
While I am talking about my favorite things, I cannot get enough of this MIRTH dress... and really anything and everything they do.  They are such cute girls, making beautiful dresses, caftans, etc.  Check them out!
Bedside art + books make the perfect combo.  This little watercolor by WAY WAY ALLEN is one of my faves. She sells her work at Celadon special events from time to time as well.
The room has a funky slanted roof and skylights, a step up and some other slightly odd details, that I have grown to love, but originally made getting a vision about how to make the space work a little more of a challenge. These rattan chairs, rug and pillows from Celadon updated this awkward space between our closet and our bedroom, creating a lovely little sitting area.
xx Jane
Continue reading