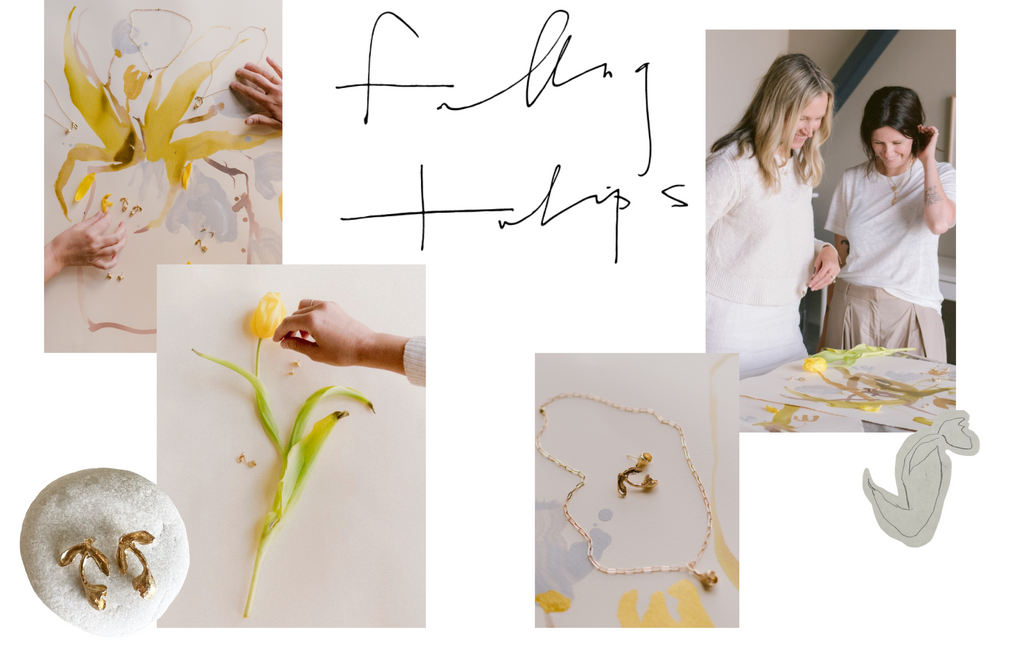 It has been such fun collaborating with Raven Roxanne on the JP x RAVEN ROXANNE FALLING TULIP Collection. Raven and I have been friends for years and studio mates at our last spot. She is such a light and and an all around lovely human. As creatives and entrepreneurs, we wanted to work together to create a collection of wearable pieces with her work with tulips in mind.  I am beyond excited to announce the launch these pieces today!  Read more about the collaboration below.
Raven Roxanne first met jewelry designer Jane Pope nearly a decade ago, when Raven's husband worked with Jane to create her engagement ring. Years later, the two became studio mates at Slate Studios in Charleston, South Carolina, where they continued to admire and find inspiration in one another's work. With practices rooted in modernism, both artists are drawn to playfulness and Old World softness, their styles complementing each other naturally.
Over time, Raven and Jane's relationship has evolved into one of mutual respect and deep friendship. Ever supportive in the studio, the artists have also anchored each other through life's shifting stages. When Raven returned to the studio after the birth of her first child, she found a familiar confidant in Jane, who could bring wisdom, advice and a new perspective to motherhood. This new chapter in life brought the two even closer and with it a new spark of inspiration.
Conceived early in Raven's motherhood, Falling Tulips breathed new life into the artists' studios. Marrying Raven's tulip motif—a theme that appears often in her paintings—with Jane's unique wax molding and gold casting process, the collaboration felt organic from the start. With only three pairs of earrings and three necklaces, the collection captures tulips not at their most pristine, but at varying stages of growth and imperfection. Together, the pieces represent the beauty of evolution, and the value of growing together—not unlike the artists' relationship itself.
Continue reading