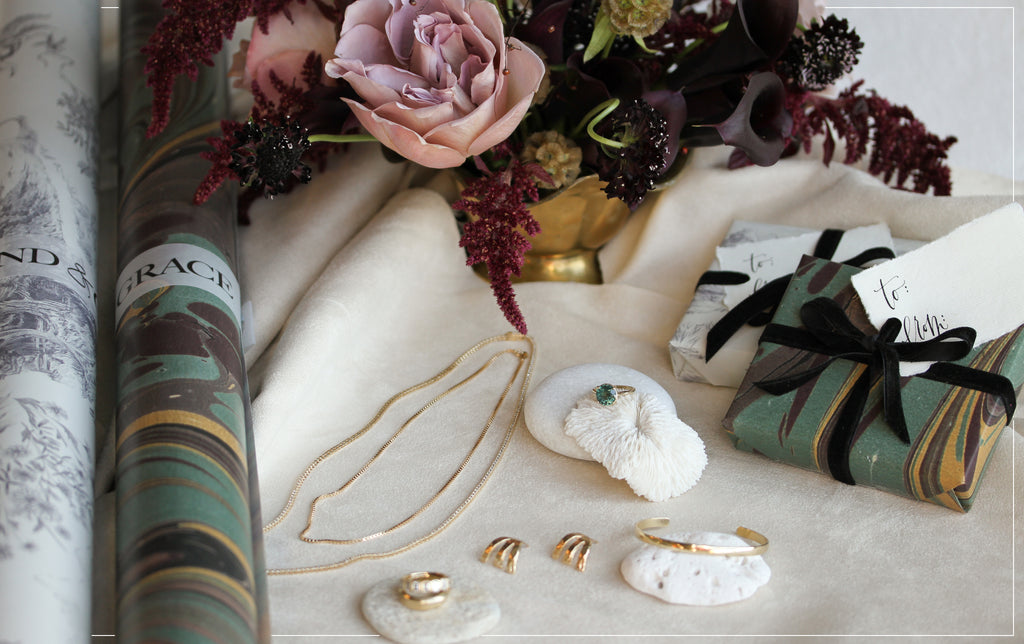 I recently went to a local pop-up here in Charleston and stumbled upon the most beautiful goods by BOND & GRACE.  I wanted to pack up the entire table and take it home - their incredibly thoughtful and absolutely gorgeous Art Novel™ coffee table books, wrapping paper, and ornaments in collaboration with artist Karen Davis were divine.  Don't even get me started on the gorgeous arrangements by my favorite, Flowershop CHS.  They were to die for!  I always love to support women owned businesses, and loved meeting one of the founders of B&G as well as Katie from Holy City Handwriting. It feels serendipitous that i stopped by the pop up and connected with these two female powered businesses.  Girl Power!
I have been feeling very thankful for those of you who have followed along since day one and those of you who are new to JP.  We receive so many kind messages from clients about how much their JP pieces mean to them, and how incredible each one makes them feel. Nothing makes me happier than your kind words.
In an effort to thank you all for your kindness, I wanted to offer some super special, and gorgeous gift wrapping on us.  This will keep our little packaging a holiday mystery for a little longer. (We know how much you all love to see that JP custom packaging under the tree, but there isn't much better than a surprise!).
We have worked with Bond & Grace to procure their gorgeous marble and toile wrapping paper, and Holy City Caligraphy for some truly special To:/From: cards to create the most beautiful THANK YOU on all JP Sales Nov 16 +17.  It's our small business Saturday of sorts.  
I truly appreciate you all.
xx Jane
Continue reading