Jane's Guide to Charleston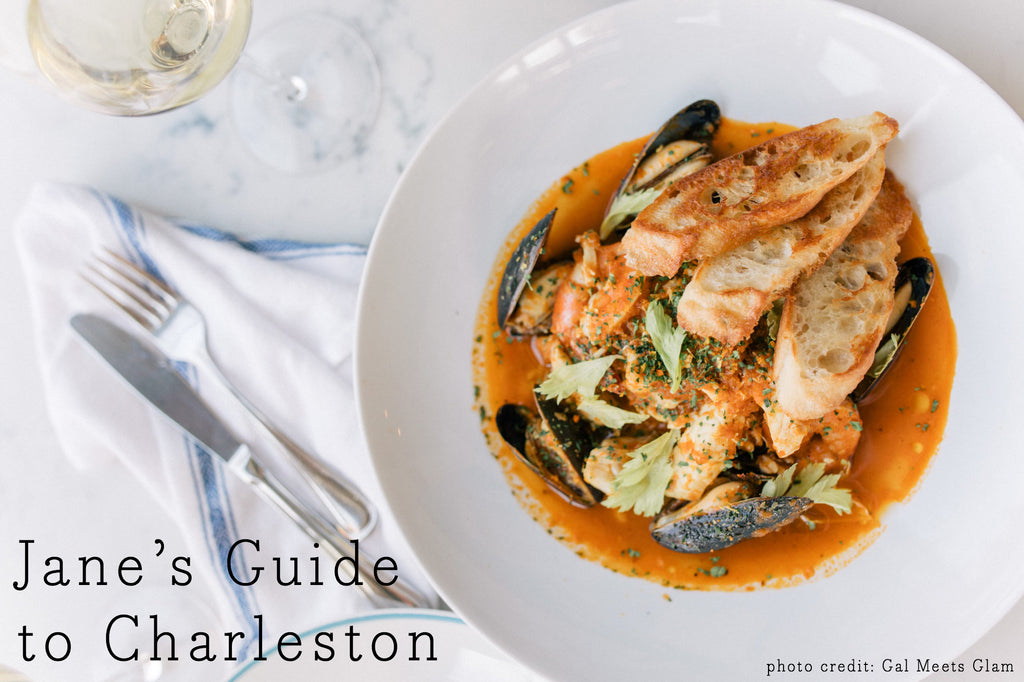 I cannot begin to tell you how happy I am to be back in Charleston.  As we are coming upon a year, I am reflecting back on how awesome it is living here. Riding bikes with my kiddos to school every day, working in my amazing studio with young, talented creatives all around me, discovering new spots and revisiting old favorites.  This guide is long overdue. I love Charleston and feel lucky to be back in a spot with so many cool things going on.  I also get asked a ton for recommendations when people come to town, and I thought this would be a good place to shout out to my faves.
| EAT |
BREAKFAST
THE DAILY – This is the perfect spot to grab a yummy breakfast taco and matcha latte or a kale salad for lunch.
HARBINGER – Great for coffee and a pastry or quiche.  It is also salad heaven at lunchtime. This tiny little spot on upper king street has a selection of pre made salads.  I typically get the salad sampler.  They also have quiches, breads, and grab n go section of goodness.
LUNCH
167 RAW – This is a great spot to meet for a lunch date or to meet a friend who is in town.  It's pretty tiny, and there is nowhere to wait except outside (in the heat if it's summer, so be prepared).  I like to get there around 11:45 to snag a spot before the line builds up outside.  Your entire party has to be there to be seated as well.  I get the special salad every time.  It features whatever fresh seafood they have on top of a variety of fresh veggies and a yummy dressing du jour. The ceviche and crudo options are always fab, and the hubby love the "pastramied" fish sandwich.
BASIC KITCHEN – Super yummy and healthy lunches.  It has a very California feel, and cuisine to match.
BUTCHER & BEE- I love B&B for lunch, but supper is great too.  I had the most fun ladies dinner there recently.  So many good options in the mezze section to share (or not)– the grilled radishes with harissa honey and tahini are divine as are the roasted carrots with yogurt and salsa verde.  I also love the beet burger and kale salad. The pan seared fish with pea & fennel puree, snap peas, herb pistou, crispy leeks for dinner.  They have delish cocktails as well.
GOAT SHEEP COW NORTH – I finally made my way to this cute little spot that I have been dying to try for a ladies lunch recently. It was Bastille Day and super festive in there.  The rose was flowing and the food was delish!  I want to go back again soon.
HURIYALI – This uber healthy little nook on Huger street is a fave because my kiddos love their smoothies. We sit in the back patio and get something really healthy and they can play outside.   They have THE most amazing Coconut water that they have not had in forever.  I am really hoping they bring it back, because it was the best thing I have ever tasted.
LEWIS' – If you are up for a fairly fast, and deliciously heavier lunch, this is your spot.  The brisket is to die for!!  I get the lean cut + collards (not greasy and pork flavored like many bbq joints) + coleslaw which is vinegar based and light + a pile of pickles.  The Turkey is also yum, and my hubs likes the country fried chicken with gravy, for those of you wanting to REALLY overdo it.
PARK CAFE – This great neighborhood spot is super cozy tucked into our old neighborhood, Hampton Park.
XIAO BAO BISCUIT – This cool spot is in an old gas station turned hip "Asian soul food" spot.  The cabbage pancake is ridonkulously delish.  It's a great place to share a few little dishes. 
| DINNER |
This summer the hubby and I have been doing a standing date night once a week which has been a fun way to jump back into the Charleston Restaurant scene.
CHEZ NOUS – This spot is so so good.  You may want to check their Instagram to find out if what is on the daily menu is up your alley, but it is rare that it's not.
CHUBBY FISH – I had heard of this brand new spot from a friend and hubby and I hit it up within the first week of opening.  We sat at the bar and ordered several dishes and got to watch the chefs prepare each one.  The Octopus was delish with a yummy parsley, fennel, hot pepper salad.  The Barbequed Shrimp over rice was spicy and super flavorful.  Even the simple Squash Salad with sunflower seeds and parmesan was simple and delish.  It's on the corner of Coming  and Bogard streets which host other cute spots like MINI BAR and Tratorria Lucca.
FIG – The bar is definitely tops for date night.  Their recent renovation has made the bar area so cozy and the food cannot be beat.
INDACO – This rustic Italian spot is great for bigger groups.  They have plates that can be shared as well as wood fired pizzas.
KWEI FEI – I love this Szechuan pop up restaurant inside The Daily, open Friday and Saturday nights.  You will find David Schuttenberg cooking up a storm and his lovely wife Tina greeting you at the counter to order.  We love to sit at the bar and watch Dave work his magic.  Learn more about Dave and how he got where he is now on his episode of EFFINBRADIO
LEON'S – This is an all time fave spot for groups or a date.  Siam Salad and the Clam lettuce wraps are at the top of my list, but you can't go wrong with the fried chicken sandwich if you are looking for a more robust meal.
ORDINARY – I love Mike Lata's latest seafood spot.  The fish specials have been amazing, as well as the crudo and the oyster sliders.  If you are with a group, the seafood tower is also a good way to go.
PURLIEU – This new spot opened by the Cru Catering group is fun for smaller groups or a date.  I recently had the best dinner with a group of dear friends.  The food was delicious and the spot was super cozy.
STELLA'S – This is a great family owned Greek restaurant.  Be ready to be immersed in Greek culture – the music, the décor and the FOOD!  So yummy and the menu is extensive.
| STILL WANTING TO TRY |
BIN 152 – This wine bar that has been open for years, but I have yet to make it in there.
COCKTAILS
BELMONT – Hand crafted cocktails made by dapper looking guys. I love the big blocks of ice.
GRAFT – Amazing wines + the team of Femi and Miles
PANCITO y LEFTYS – Great tequila drinks on tap and a nice big bar to order an app
| STAY |
ZERO GEORGE – This boutique hotel gem is  nestled in several old Charleston houses/buildings.  It is a great location steps from great shopping, many historic sites and restaurants.  They have bikes you can borrow to get around the city, which is a great way to check out the peninsula without dealing with parking and car traffic.  The rooms are beautiful and they have a lovely patio for wine + cheese board at happy hour.  This is a great spot for a weekend getaway with your love or even a girls weekend.
THE DEWBERRY – This spot is located in the old federal building on Meeting Street.  I love the vintage modern feel.  The rooms are amazing as is the customer service and bar area.  This is a great place to stay with a group of couples, because they have plenty of rooms, and the lobby offers a great space to hang.  The spa is also ridiculous, whether you are staying at the Dewberry or a local.  Ask for Kaleigh!
| DYING TO TRY |
86 CANNON STREET- This is a cute newer, boutique hotel in the Cannonborough Street shopping district.
SPECTATOR – I love the bar at this hotel.  Can't wait to stay there sometime.
| SHOP |
AILLEA – New shop for all of your non-toxic beauty needs.  Halleluija!
FLOWERSHOP CHARLESTON – Whether you need a bundle, a vase of flowers, or a flower crown, this little spot packs quite a punch. So many gorgeous flowers by Lily and her crew.
HAMPDEN CLOTHING – So many great designers in one spot.  Not to be missed +  its shoe counterpart, James is just next door.
INDIGO AND COTTON – Great menswear shop in Cannonborough
MONARCH WINES – This cute wine shop is located beside the Harbinger on upper king street.  Justin is there to help you pick the perfect bottle of wine!  More from Justin on this episode of EFFINBRADIO
SUGAR BAKESHOP – You do not want to miss these sweet treats if you are out and about.  As you wander around Cannonborough, stop in for a ginger molasses cookie or an almond cupcake with a sugared blueberry on top.
| MUSIC |
The GAILLARD – Recently renovated, this iconic Charleston spot hosts many types of events including dance, music, and comedy.
MUSIC FARM  - This standing room only intimate venue hosts all genres of music from up and coming artists to old favorites.
CHARLESTON MUSIC HALL - This is a seated venue that hosts comedians (Second City Tour coming in September), film series, concerts and more.
| EXTRAS |
FAVE LOCAL PODCAST – EffinBradio
| KIDDOS |
BEACH
THE ALLEY – This is a family friendly bowling alley and restaurant…. Until the evening when it cranks up more as a bar.
HOMETEAM – Great, casual  food for adults and kiddos and room for them to roam around
WATERFRONT + HAZEL PARKER PARKS
A post about areas surrounding the Peninsula coming soon.
xx Jane